Interactive Legal Presentations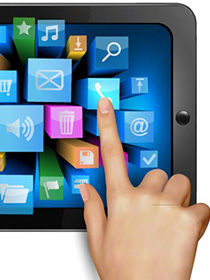 Imagine making an impassioned argument, crossing an expert, or delivering critical evidence while roaming the well, tablet in hand, throwing up exhibits with complete fluidity, all timed to perfection.  Visual Forensics puts the power to present in the hands of the litigator with our custom interactive legal presentations.
We organize and incorporate your exhibits into a self supporting presentation that will run on any computer, tablet, or touch sensitive device.  There is no need to install major software applications or perform lengthy preparations on the systems running the presentation, it runs in a simple embedded viewer.  Just double click on the project file to start it up and then present through a projector or with a touch screen television.  With easy to operate, on-screen navigation controls, the litigator or expert has the opportunity to freely move from one exhibit to another with just a touch.  Swipe, tap, scroll, zoom, and pan your way to success with Visual Forensics interactive presentations.
Every type of exhibit can be handled by our interactive presentation platform.
Documents, Reports, Forms, Deposition Call-Outs
All common video formats and resolutions including 16 x 9 high definition
Animation/Motion graphics
Audio clips and sound bytes
Photos and image files
Here are a few examples of the endless uses for interactive presentation.
Interactive Timelines – Scroll along your timeline, demonstrating the order of events while tapping images, headings, or dates along the way to present and annotate exhibits on the fly.
Map Systems – Navigate map graphics while highlighting the different locations with flags, pop-ups, and imagery depicting the various environments from ground views.
Video/Animation – Cut video or animations into sequences, allowing the story to be told in sections, stopping and starting to explore important details and observations.
Break the tether and present with no boundaries…Visual Forensics interactive presentations.