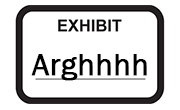 In conversations with lawyers, one thing I've heard repeated is that they don't feel comfortable working with a media company that doesn't have forensic experience.  It requires a lot of extra effort and time on the part of the law firm to ensure that the exhibit is accurate and admissible.  There is typically a disconnect from lack of experience in the legal field and an inadequate understanding of the requirements.
Another piece of information that has come up in multiple conversations with lawyers is that it is not practical for firms to have a full-service in-house production department for creating their exhibits.  With the advances and sophistication of modern media, it is extremely difficult or impractical to maintain a production team that can offer the range of capabilities and quality that a dedicated video, animation, or design firm can provide.  It then becomes crucial for successful law firms to utilize a forensic, legal oriented production partner for presenting case evidence.
So, what are the qualities one should look for in a production company to prepare a range of multimedia exhibits for your case?  Beyond the obvious reasons that one would choose a company to work with such as service, timeliness, and pricing, what are the criteria for choosing a partner for exhibit production and presentation?  Optimally, this would be a firm that is a multimedia studio at its heart but has the experience and integration for working in litigation and forensics.
Qualities that make a good partner for legal exhibits production:
1.  Legal Expertise
A qualified legal media partner should understand the legal environment and visual storytelling for the courtroom.  A successful exhibit adds credibility and does not hinder the proponent's case.  It must be accurately based upon direct evidence that is strongly substantiated.  It should be organized and convey the information in a way that is easy to understand.  Finally, the exhibit should communicate the case persuasively and effectively.  These concepts might be obvious for the experienced litigator but can be at the least frustrating when working with a partner that doesn't have the right experience and at worst can be damaging to a case.
2.  Multimedia Capability
Today's applications and technologies provide a wide variety of choices for the modern forensic multimedia company to utilize.  While it is important for legal professionals to have a decent understanding of what is available, it is the job of the legal media partner to inform the litigator as to the best solution for the case requirements.  Capable legal media companies work hard to bring the latest technologies and continually push the boundaries for legal multimedia production.  They must be proficient at analyzing and interpreting information from a variety of reference materials such as police reports, depositions, photographs, and diagrams.  A general list of services that can be available from a legal media provider include 3D animation, 2D animation/motion graphics, illustration, video production, graphic design, and interactive legal presentations.
3.  Expert Collaboration
Forming a productive working relationship with litigators and experts means that a forensic media company must be communicative and accessible.  They work closely with expert witnesses and incorporate investigation resources such as CDR (crash retrieval data), GPS, CAD surveys, diagrams, and point clouds.  A collaborative forensic media company is a participant in the discovery process and provides well researched support during the entire case building process.